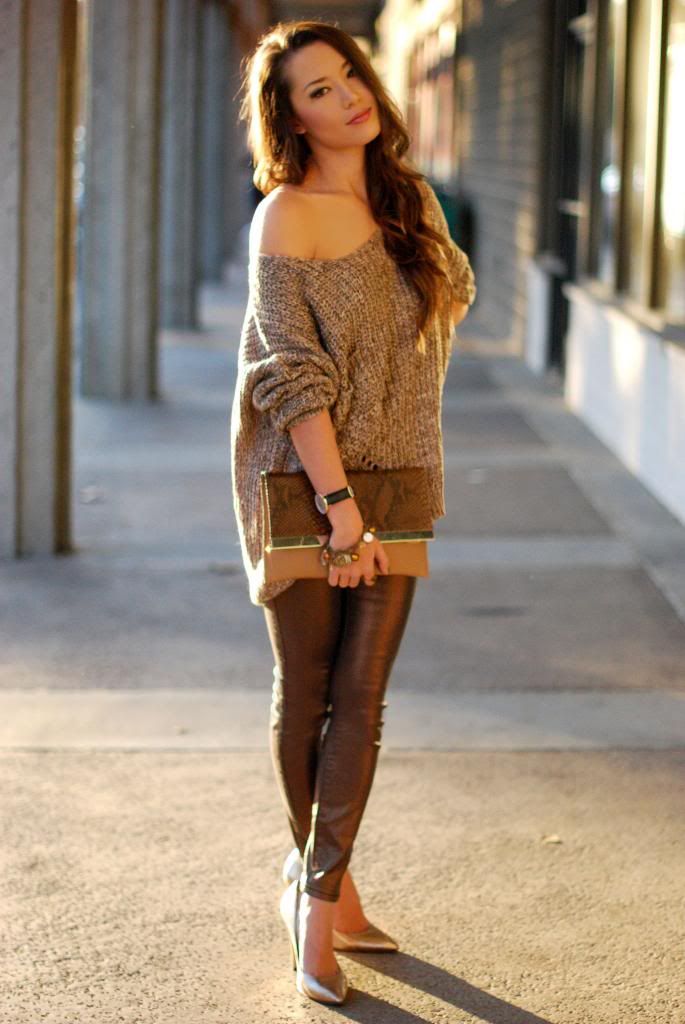 New sweater - c/o Windsor Store
,
New metallic denim - c/o 2020 Ave.
,
New snakeprint clutch - c/o DailyLook
,
Heels - Vince Camuto
,
Watch - c/o Daniel Wellington
, Bracelet - Forever 21, Purple weave bracelet - c/o Forward to All [sold out, similar
here
],
New fox ring - c/o Awwdore
Well ladies and gentlemen, it's great to be home even though Guam was amazing! I have so much to show and tell you!! (I just need to go through over 1000 photos first!!) And you might not believe it, but I actually slept about 21 hours in the last 48 hours... I had seriously no idea I could sleep that much but I guess I had some serious jet lag and exhaustion to overcome :O
Now that I'm back in California and it's finally feeling like winter... who doesn't want to feel luxuriously cozy? Metallic denim (one of my favorite winter trends) paired with an oversized knit sweater and touches of soft gold can do that for you :) Or of course hot cocoa, a good book and a fire in the fireplace is good too :)
Congrats to Nina Muller for winning my Sheinside giveaway.
The turnout for that giveaway was really amazing! Now not only do I have posting and emails to catch up on, but I also have a lot of giveaways too! The next giveaway I'm doing is for
ZeroUV, a sunglasses boutique on ebay
! They want to give two of my readers a 4 piece gift set of sunglasses each!! Awesome right?? You can enter in the rafflecopter below for a chance to win. Good luck!! :)