Did you know, I never wore red til I started blogging a few months ago?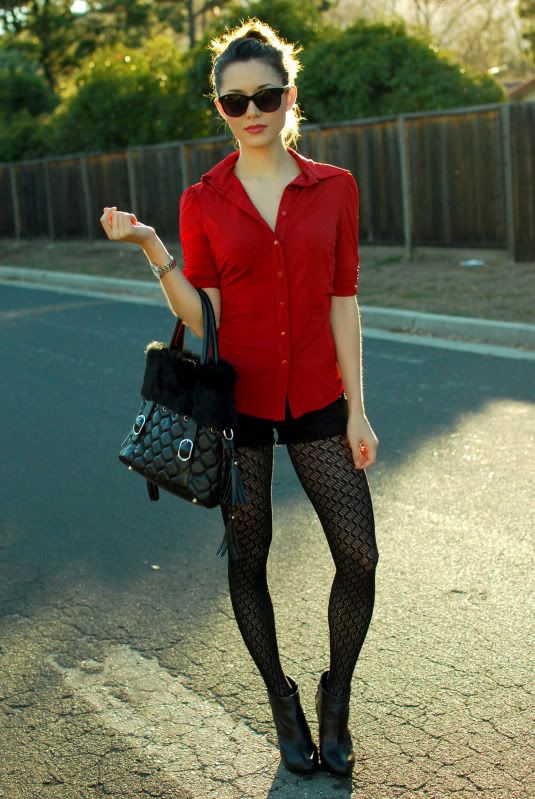 top - Bebe, shorts - Bullhead Black (Pacsun), shoes - Aldo, tights - Target, bag - Romwe, sunnies - Forever 21
And now I just love wearing red. I always used to say its not my color. But something changed and I'm not sure what :P Oh and I can't remember where I found the title of my blog post, but it really struck a chord with me. Its so true.
I made an amazing dish last night!! It was gobbled up in seconds. If you like salmon, garlic, oregano and brussel sprouts and want a delicious healthy meal, you can see the
recipe here
. :) It was also quite easy, I may just do a cooking post with this dish!
Now I'm a bit of a contest craze, I enter so many contests I can't keep track. And I want to apologize if you don't want to see my contest entries lol, but every once in awhile I enter the kind where I need other peoples help. I just put my newest contest entry on my sidebar today, from which I hope to win a trip for my amazing parents, who have given so much to my sisters and I for so long. My dad works so hard to support his family and what can we give back to him? I want to give them a trip to Tahiti (my dads dream) where he doesn't have to worry about anything, not his kids, not his company, nothing :) So please help me do this, it's easy because you don't have to register,
it's just click and go
! And you can vote everyday!
And of course here is my entry with my boyfriend for the
cutest couple contest, please vote this too
. :) This is one of my favorite pictures of us!