Mint chiffon dress – c/o Queens Wardrobe, bag – Aldo, shoes – Guess, bracelets – Aldo, watch – Style & Co., sunnies – Fossil
This beautiful mint chiffon dress is from Queen's Wardrobe. Despite it being super windy, it didn't fly up, which tells me that not only is it visually beautiful, but the cut is perfectly practical. Short and and doesn't fly up in windy days? Great 🙂
The material of the dress made me realize I should bring up (what I think is) a very important "tool" every girl should have if they care about their clothes, and don't like wrinkles in their clothes. I'm talking about a steamer! Do you have a one? This is the one I have: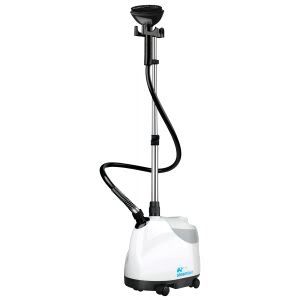 It is the SteamFast Upright Garment Steamer #SF-407 – Garment Steamers. It works well and is not too bulky. The only thing I would say it needs is, like my last steamer had (which one of my sisters broke by putting fabric softener in it to help her take the wall paper off her walls), is a hanger setup on the steamer much like this one, or this one. Otherwise you have to make your own setup or just steam the clothes at the closet, where they already hang. Steamers are a wonderful thing when you have light, delicate fabrics that can't be ironed. I don't even know if it's possible to burn your clothes or ruin them in any way with a steamer. Check it out, and I definitely recommend getting one. I don't think you'll regret it, as in my case it has just about completely replaced the iron, unless I need creases in my dress pants and such 🙂
P.S. I wanted to ask you guys: I put up an average of 8 – 9 photos every outfit post. Do you think that's too many, too few, or just right? I would appreciate your feedback, thanks!