Sharkbite? Where's the shark? 🙂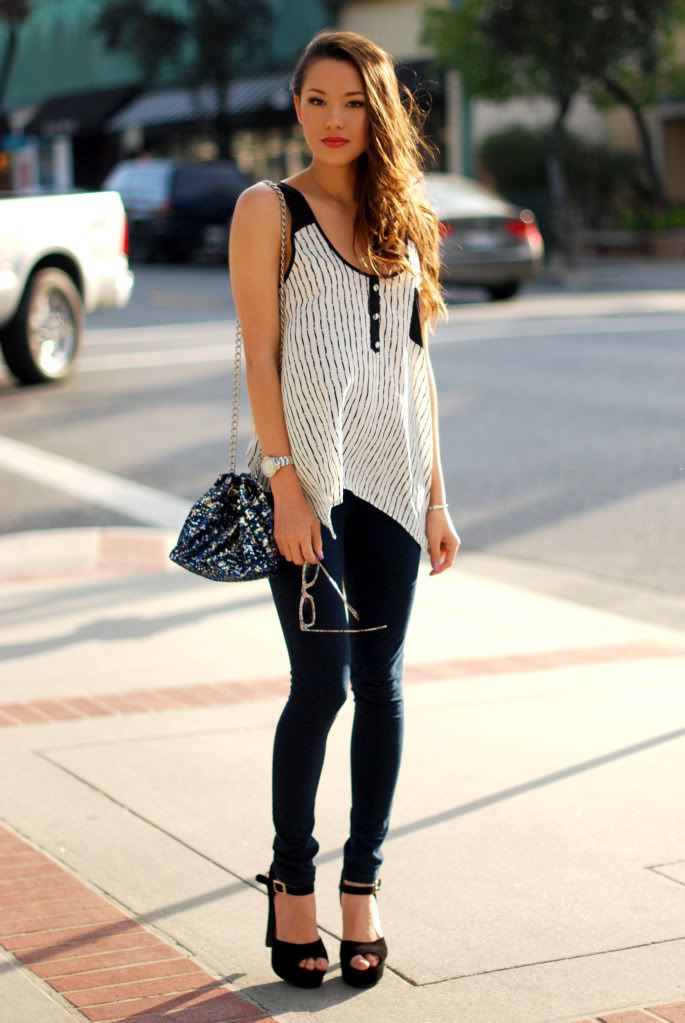 New top – c/o Minted Republic, jeggings – Forever 21, heels – Steve Madden Dynemite, purse – Big Buddha, sunnies – c/o LYLIF, watch – Style & Co., Love bracelet- Mimi's Boutique, necklace – Aldo
Minted Republic calls this beautiful top — the "Sharkbite Top." It's a statement piece all in itself, so I felt I could pair it with neutral items like my Forever 21 jeggings and plain black (platform) heels. The flowy material is lovely too, and both the cut and length is perfect! I also really like how if you get the material wet, visually, you can hardly tell!
Did you notice/like my lavender nail polish? If you follow me on twitter you might already know I custom made it with OPI "Alpine Snow" and Pure Ice "No Means No." Making your own polish is really easy but of course has both pros and cons. I think you can make almost any pastel color by mixing in some white with say green – to make mint, hot pink – to make bubblegum pink, cobalt blue – to make baby blue, and so on. You can also make some secondary colors, like green, orange, purple and a variety of browns.
The problem is that you might make too little or too much, and you have to work pretty fast before it dries on the mixing board. I say try it out though if you need a color pronto, to maybe match your dress or if you just can't wait to go find it in store (me). Also, mix enough for one hand at a time. It will be harder to tell if your hands don't match each other perfectly than to tell if two fingers on one hand are not the same shade.
P.S Romwe giveaway, ends in 8 days, don't forget to enter here!