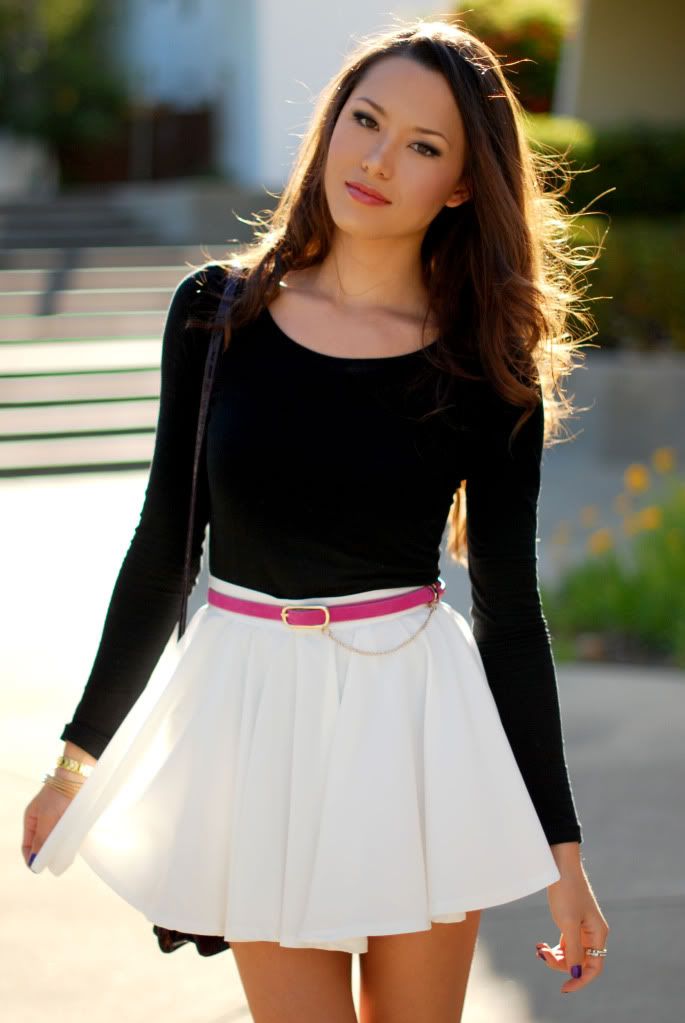 New skirt/skort – c/o Romwe, New belt – c/o Oasap, top – H and M, bracelet – c/o Trend Essentials,
heels – Steve Madden, bag – Aldo

While any color looks good with white, and the same for black, sometimes the best match up is black and white together. I added a pop of pink and touches of gold to make this interesting, and tada! I love this outfit. Simple, clean and cute, don't you think?
This Romwe skirt looks and feels like a skirt, but hey tricked ya– it is not a skirt. I think it is what you would call a skort since the front covers up the loose shorts underneath. However, there is so much material, no one even noticed the back was not like the front til I told them. I love the light material and flowy style. It makes a bit of a swishing noise when I move too 🙂 There is only one left on Romwe right now, and it is such a nice piece I would recommend requesting on their Facebook wall for them to restock.
Yesterday I spent a lot of time making a photo tutorial for my eye makeup. It is ridiculously simple, I mean six steps is not very many right? I did throw in some personal tips though, so hopefully you ladies find it useful. I'll be posting it very soon 🙂
And about my post title – it's from a Shania Twain song. I'm not really into country music, but I do have a lot of good memories listening to her on road trips from when I was younger!
P.S Don't forget to enter the Romwe giveaway, and please note you do have an option to vote for my Akira contest entry everyday, and get an extra point for it. 🙂