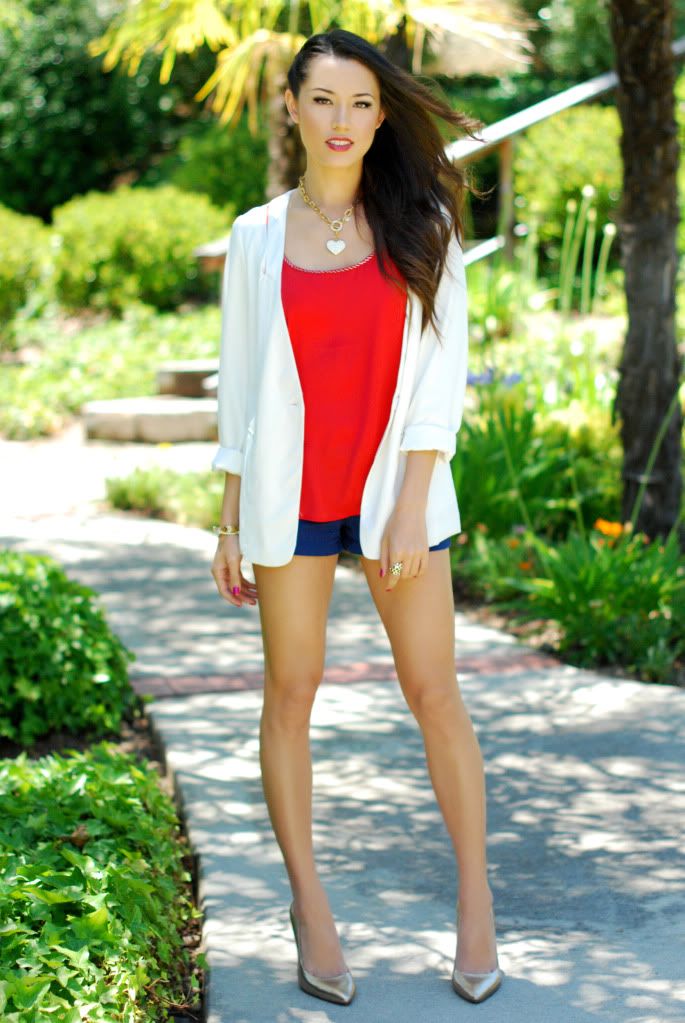 New blazer – c/o Style Sofia, New top – NY and C [similar: here, here], shorts – Pacsun [similar: here, here], heels – Vince Camuto, necklace – Bebe, bracelet – Jeweliq, watch – cruise

July 4th is just around the corner 🙂 So what better time to get a little patriotic with my reds, whites and blues? And did you notice how this pretty blazer from Style Sofia has little cut outs on the shoulder? I always like unique little touches to otherwise classic pieces.
Today I had a fun time at a local water park! I decided to try out a lighter, more summery makeup look and well, it was an experiment. Too bad experiments aren't always perfect. Two products with notability: I had on some Smashbox BB cream tinted moisturizer which didn't have very good holding power or coverage though it looked natural enough. I also used my Urban Decay waterproof liquid liner, and it didn't budge one bit. Cat eye liner for a wild day in the water, yes please! Do you have any good summer makeup products you can recommend? Or do you think water park/beach makeup is silly?
Don't forget about the JEWELIQ giveaway in the previous post… and stay tuned for more, I literally have 10+ giveaways lined up 🙂


var _gaq = _gaq || []; _gaq.push(['_setAccount', 'UA-33695057-1']); _gaq.push(['_trackPageview']);
(function() { var ga = document.createElement('script'); ga.type = 'text/javascript'; ga.async = true; ga.src = ('https:' == document.location.protocol ? 'https://ssl' : 'http://www') + '.google-analytics.com/ga.js'; var s = document.getElementsByTagName('script')[0]; s.parentNode.insertBefore(ga, s); })();