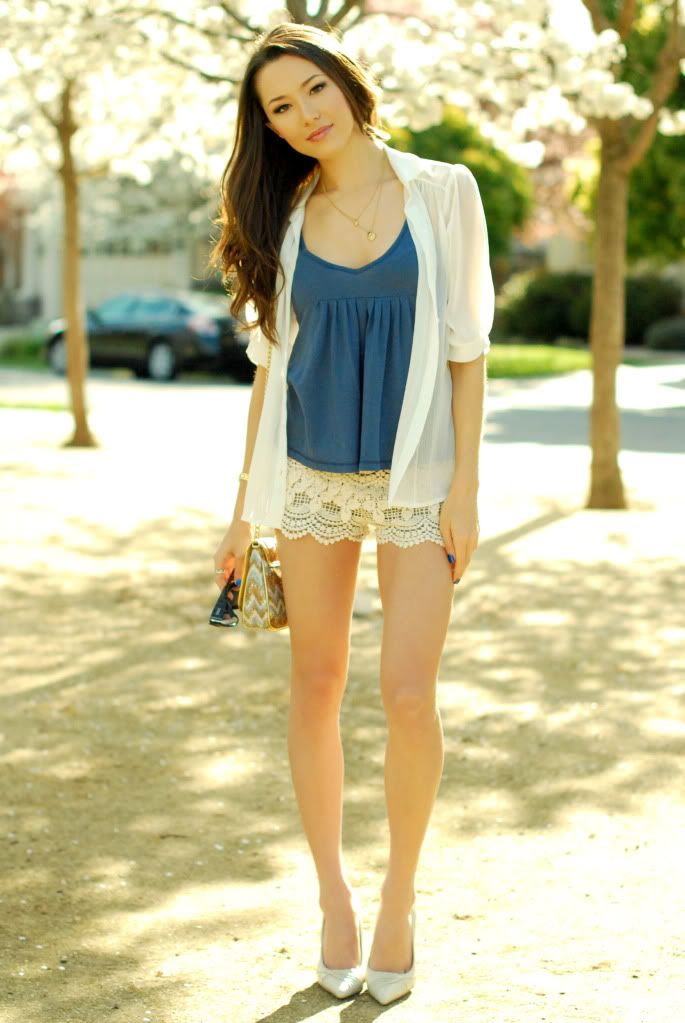 New shorts – c/o shopAkira, blouse – Forever 21, top – Abercrombie and Fitch, bag, shoes, rings, necklace – Aldo
I do believe that almost every fashion blogger has or has heard of crochet shorts. And what's funny is that back in December I remember hearing of crochet shorts and thinking, "What the heck??" But in fact I love them now because they are so feminine, delicate and intricate. Oh how times change 😉
shopAkira actually sent me these, and they are a bit different from the popular OASAP ones I've been seeing a lot. The lining material is more skin color, if not a bit brown. The shorts are rather cream, than white or black. And of course the design of the crochet can't be exactly the same. What I love best about shopAkira is that they have over 200 designer brands, making it kind of impossible to visit their store and leave without finding something you like.
Also, I forgot to mention in my last post— I got a new lens!! A few days ago I bought my newest lens (for my Nikon D60 body), which ultimately I am the happiest ever with— the 50 mm 1.4d AF-S. The 1.4d versus the 1.8d is amazingly better, because not only can it pick up more light in the lowest aperture setting, but for some reason the bokeh looks better. And it is auto-focus like the 35 mm I was using in Dec/Jan— of which I never realized how much I would appreciate auto focus til I didn't have it in my AF lens (Jan/Feb). You don't know what you've got til it's gone, as the Counting Crow's like to say 😉
P.S. Don't forget to enter the Hello Kitty giveaway in my previous post and the tights giveaway will be starting Tuesday or Wednesday!