New dress – c/o Motel Rocks, New shoes – Boutique 9, watch – NY&C
This pretty little Motel Rocks dress is a stretchy mix of ultra fine cotton and semi-transparent lace mesh, which is one of the lesser seen but current spring/summer 2012 trends. Motel Rocks is now sold out of this dress specifically, though they have a short sleeved version here, and the same long sleeved style in periwinkle and silver (Edit: They restocked it here!). I love the fun style and how it somehow made me look more curvy. BUT, if you are thinking of buying this dress, please first consider that you may not be able to wear much underneath!
What I love about this time of the year, other than the perfectly warm days, the extended sunlight, and the ability to wear shorts without freezing… is these really beautiful pink roses in our front yard. They only bloom for about two months of the year… so most of the year we have these wretched looking flower-less bushes. I'm pretty sure we have the pickiest, most short lived roses in the neighborhood. Haha ♥
Now to announce the giveaway winner, congrats to Adrianne!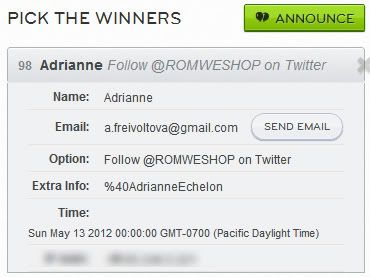 I also wanted to remind you about Akira's Facebook Blogger contest they have going until June 8th. They are allowing you to vote once everyday, and I would love if you could vote for me here 🙂 Speaking of Facebook, I made a Hapa Time page and although it feels very empty, as I get more likes, there will consequently be more content. You can check it out here. 🙂